Spring Meeting Scheduled for Galway, Ireland
The spring Customer-Value Network meeting and Marketing-War-Room workshop will be hosted by Ingersoll Rand in Galway, Ireland on April 18-19, 2007. We will have an informal CV Networking reception on Tuesday evening, April 17, the CVN meeting on Wednesday, and a Value-Strategy Toolkit™ software workshop using customer value management cases and tools on Thursday morning.
Donal Cox of Ingersaoll Rand will host the networking dinner after the meeting on Wednesday. Donal has also arranged for us to have a tour of the Ingersoll Rand facilities in Galway at the end of the Thursday workshop.
Directions & General Information
The fall CV Network meeting and Value-Strategy Toolkit™ workshop will be held at the Ingersoll Rand Plant in Galway. We recommend that you stay at the Radisson SAS Hotel in Galway. This hotel enjoys a beautiful view of Galway Bay and is a short walk from the center of the city. Transportation to and from the meetings will be arranged from the hotel.
To make reservations at the Radisson SAS, contact Maria Booth, either by phone -- 353-915-38520 -- or by email -- MariaBooth@RadissonSAS.com. Mention the Thermo-King, Customer-Value,Inc. meeting. The rate is €104 per night.
Radisson SAS Hotel, Galway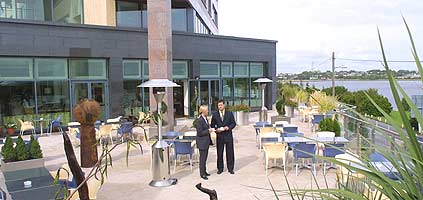 The Galway Airport is served by the regional airline Aer Arann, which offers service to Galway from Dublin as well as from a number of regional airports in England and ireland. Flying into Dublin and then taking the short flight to Galway is the preferred way to get there from North America or Europe.
Meeting Location:
Ingersoll Rand, Monivea Road, Mervue, Galway
Networking Reception and Networking Dinner
There will be an informal get-together for arriving Network members on the evening of Tuesday, April 17 at the Radisson SAS Hotel. The Networking Dinner, hosted by Ingersoll Rand, will be on the evening of Wednesday, April 18, place and time to be announced.